Our large format printing company specializes in producing high quality large format prints for a wide range of applications, including trade shows, events, retail spaces and more. Our state-of-the-art machinery and years of experience ensure that every print we produce is of the highest quality and meets your exact requirements. Whether you need a custom size, material or graphic design, we are here to help you every step of the way. Contact us today to bring your vision to life!
We print on a wide range of materials including: various types of papers, banners (frontlight), mesh mesh, backlights, blackouts, foil flags including perforated, canvas. More materials can be found below.
In addition, using UV printing technology and our state-of-the-art UV flatbed printer, we print on flat plastics such as foam and hard PVC or Plexiglas.
Large format printing house in Warsaw
What do we print and what do we create?
UV printing
Plexiglass PMMA, dibond, PVC, plaster, glass, banners, sheet metal, foils, cardboard, fabric, backlighting materials

Solvent printing
Banners, transparencies, mesh, backlit, canvas, posters, murals, bluebacks
Coffers and spatial letters
Coffers and spatial letters
Dibond panels , signs, 3D letters, semaphore with your brand, wall sconces
Laser cutting
plastics, textiles, rubber, plywood
CNC milling
dibond, plexiglass, PVC, hips, plywood, furniture board, osb, styrodur
Trade show booths
built-ins, dedicated store furniture, comprehensive execution and design
Exhibition systems
Rollups, X-banners, L-banners, stands, trade show and photo walls 
Montaż
Installation of our products in Warsaw and Poland. We realize the installation in the EU.
Large format printing with UV technology
In UV printing technology, the ink is applied directly to the material after which it is cured on the surface using UV lamps. In addition, the use of white ink gives the possibility of selective overprinting or printing on a substrate of any color. It also gives the possibility to print on transparent media. We also offer selective printing with UV varnish in matte or gloss, which gives the possibility to highlight and emphasize certain elements of the printed design.
We realize UV printing in three variants:
CMYK
CMYK with white underprint or overprint
CMYK 4+0 or CMYK 4+W with selective UV varnish overprint (matte or glossy)
Our UV printer is equipped with Ricoch brand heads with very high precision (one of the smallest droplets on the market) which allows us to create sharp, crisp, color-saturated prints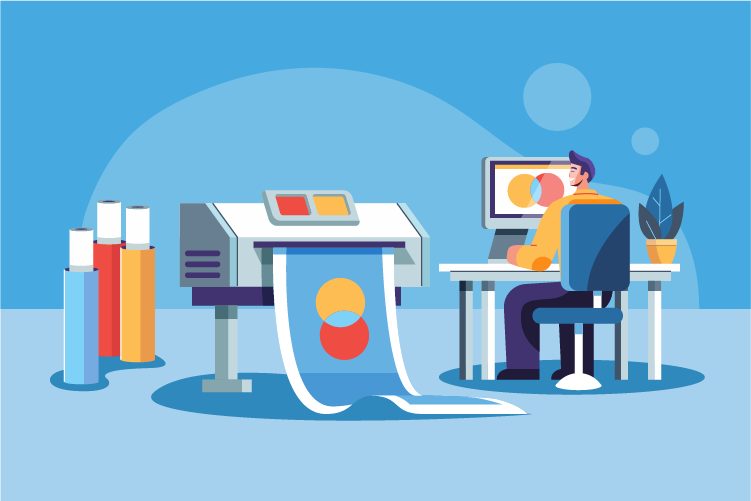 In-house graphic design studio
Guarantee of quality and timeliness
Assemblies on the territory of the country and the European Union